The Purkinje effect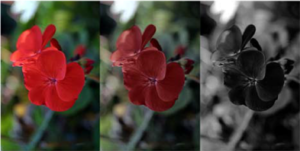 All represent geranium flowers, but they have a different appearance under different levels of illumination. Do you know why?
The effect is known as Purkinje effect and it was discovered in 1819 by the Czeck anatomist and physiologist Jan Evangelista Purkyně looking at his favorite flower, which appeared bright red against the dull green of their leaves on a sunny afternoon and very dark red or black with leaves and blue petals relatively bright at dim.
It is due to the difference in sensitivity between rods and cones. Rods are more sensitive than cones to low levels of light and to small changes in illumination. Indeed, they are sensitive to wavelengths of around 498 nm (green–blue) and are insensitive to wavelengths longer than about 640 nm (reddish orange). Therefore, they are responsible for vision in dim environments and at night (scotopic vision). On the contrary, cones are less sensitive to small fluctuations in light levels, functioning in well-it environments (photopic vision) and they allow color perceptions. They sense light in three bands of color: blue (420 nm), bluish-green (534 nm) and yellowish-green (564 nm).
Hence, during the day, the human eye is mostly sensible to yellowish-green light, but at dusk, the eye is most sensible to greenish-blue light. This is why yellow and red objects, which are clearly visible in daylight compared with green or blue ones, seem to be much darker at dusk, appearing almost black. On the other hand, objects appearing blue or green during the day, they seem bright (grey) at night.